Shooting Gift Vouchers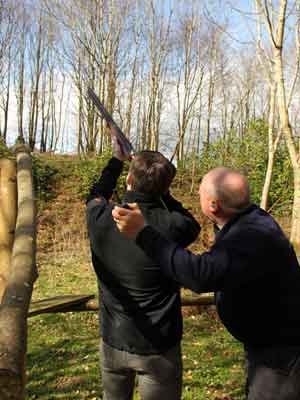 Clay shooting activities and private shooting lessons make a really unique gift for someone who enjoys the outdoors, even if they've never shot before.
Hopetoun Clays gift vouchers all include a private lesson and shooting experience with a member of our experienced team of instructors. There's also a pro lessons option with Stewart Cumming who is the one of the top ranking FITASC shooters in Scotland, placed 8th in the world and four times Scottish Champion clay shooter.
There's a choice of three gift vouchers suitable for all levels:
Individual £55. A lesson and clay shooting experience for those with little or no previous experience. Includes 50 clays & cartridges for the recipient.
Couples/Joint £75. A shared lesson and shooting experience for two people including 75 clays & cartridges.
NEW Friends & Family lesson offer. Buy an individual lesson for £55 and up to three extra friends or family can join your lesson for an additional £20 each (+ 20 clays each). Please note at least one adult must be taking part.
Pro Lesson £90. A one hour tailored lesson for intermediate or experienced shooters who are looking to develop their existing skills. This lesson is with Stewart Cumming and includes 100 clays & cartridges.
All prices include gun hire, cartridges, clays, safety equipment and insurance. If participants wish to bring their own gun this can be discussed at the time of booking.
How To Buy Your Voucher
There are three ways you can purchase a Hopetoun Clays gift voucher:
Buy online and instantly download and print your gift voucher at home (opens new tab)
Contact us during office hours on 0131 331 9940, buy over the phone and we'll post one out*
Buy in person at Hopetoun Farm Shop near Newton village.
The recipient will have 12 months from the date of purchase to redeem their voucher and all they have to do is call us to pre-book their activity.
If you have any questions or wish to seek advice on the best voucher to buy for your recipient then please don't hesitate to contact Hopetoun Clays on 0131 331 9940 during office hours or email clays@hopetoun.co.uk and our Shooting Manager will contact you directly.
*There's no additional charge for postal vouchers but please note the last date for posting this Christmas is 19th December