Shooting Instruction
In addition to our clay pigeon shooting leisure packages and simulated game shooting at Hopetoun we can also offer tuition. Examples include:
Clay pigeon shooting instruction
Game shooting instruction
Pre-season refresher sessions or in-field training
Driven Grouse practice
All instruction is bespoke to your particular needs and you can be a beginner or an experienced gun. Instruction can be delivered on a one-to-one basis or in groups, on one day or over multiple sessions as required.  Instruction can also be delivered in-field during the season. Please contact us if you wish to discuss your particular needs.
If you wish to buy a lesson for someone else we also sell gift vouchers. Please visit our voucher page for more details.
Prices
We have three types of lessons to suit every level and requirement:
Individual lesson. For those who have never shot before or not had very much shooting experience. £55 price includes 50 clays & cartridges for the recipient.
Couples or joint lesson.  £75 and includes 75 clays & cartridges between two people.
Friends & Family lesson offer. Buy an individual lesson for £55 and up to three extra friends or family can join your lesson for an additional £20 each (+ 20 clays each)
These prices include gun hire, cartridges, clays, safety equipment and insurance.
To discuss your requirements and purchase a lesson please contact Hopetoun Clays on 0131 331 9940 or email clays@hopetoun.co.uk. Gift vouchers for lessons can be purchased by calling the same number or bought online or at Hopetoun Farm Shop. Visit our voucher page for more details.
Please note that all lessons needs to be pre-booked and pre-paid in advance of your arrival at Hopetoun Clays to ensure that we have sufficient instructors and equipment to meet your needs.
Clays Manager & Shooting Instructor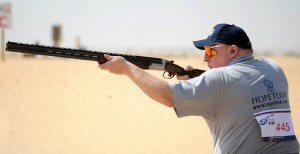 At Hopetoun we are very fortunate to have the top clay shooter in the country. Stewart Cumming is the one of the top ranking FITASC shooters in Scotland, placed 8th in the world and four times Scottish Champion clay shooter.  A member of the Scottish Clay Shooting Team since 1994 he has been Scotland team captain three times.
Stewart spends his week either here at Hopetoun or travelling the country to compete in shoots, sometimes all over the world! He recently won the Troy Foods FITASC and competed in the World Championships in Minnesota, USA last summer.  Keep an eye in our news section to see what he's been up to recently.
To discuss your requirements please contact Hopetoun Clays during office hours on 0131 331 9940 or email clays@hopetoun.co.uk.
Stewart Cumming and his team at Hopetoun Clays make the experience of clay pigeon shooting an absolute joy. With lessons and coaching from Stewart I have made it into the Scottish Ladies Sporting Team in my first year of competitive shooting. I think that speaks volumes about the quality of instruction that Hopetoun Clays provides.

Gail Barclay, April 2016