Event News – Hopetoun Fireworks
Just weeks to go….
In order to ensure everyone has an enjoyable and safe evening the events team have answered some frequently asked questions below and also some top tips for great night!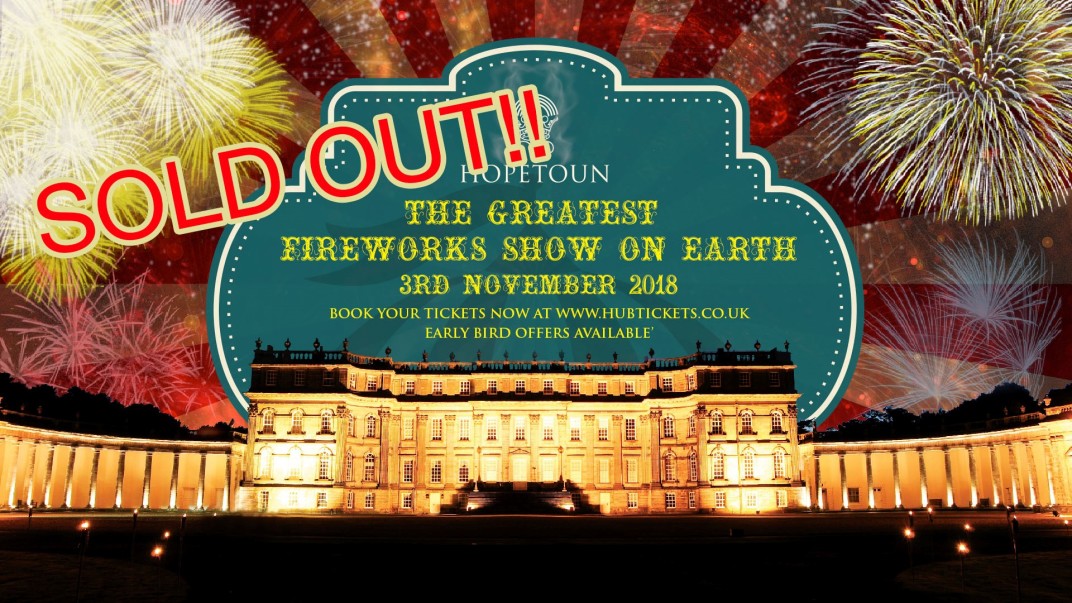 Frequently Asked Questions
The big question – will it go ahead if it's raining? Yes! The only weather which may cause the event to be cancelled is very high winds. In the unlikely event we have to cancel, announcements will be made on the Hopetoun Facebook page and our events page on this website.
Is there car parking at the event? We have ample parking on-site which is free of charge to all guests. Please follow the event stewards on arrival who will direct you to a space. Please note that all parking (apart from disabled parking) is on grass. Please be patient on exiting the car parks, there may be a short wait.
Do you have disabled parking facility?Yes, for Blue Badge holders only. Please have your badge clearly on display and the event stewards will direct you to our dedicated disabled parking area. This is on hard standing rather than grass and therefore suitable for wheelchair users.
What route do we use into the Estate for the event?We have a dedicated traffic plan in place to ensure traffic is kept moving at all times. Please follow the yellow event signs from the A904 to follow the correct route to the public parking areas.  Please do not access the event from the Shore Road by car as this is reserved for emergency vehicles.
When do the gates open?To minimise any congestion the gates open at 4pm and will close at 6pm to ensure everyone is on-site for the main event. If travelling by car you must arrive before 6pm.
Can I walk to the event? The recommended route by foot is along the Shore Road. Please be aware that this is an emergency vehicle access route and it is also a back up route should the main exit road become overly congested on exit. We therefore encourage you bring torches and dress children in bright colours/high vis if possible.
Is there any public transport? Unfortunately not, we are situated in a rural location there are no bus routes that come close to the event.
Is there a drop off and pick up point? Yes, If you are travelling by taxi there is only ONE drop off and pick up point. This will be located at the front of the main gate in front of Hopetoun House. Please follow the yellow event signs from the A904 that read 'Hopetoun Fireworks Drop Off Point' to follow the correct route to the drop off area. You will NOT be able to access the taxi drop off and pick up point through Hopetoun Estates
Other
Can I buy tickets on the gate? No! You will not be able to buy tickets on the night. We monitor ticket numbers daily so please buy in advance or check the event page or subscribe to the event feed on Hopetoun's Facebook page for any updates.
Do I need to print my E-ticket? The only way to enter is by a printed ticket as we are unable to scan bar codes from smartphones. Should the weather be wet please keep your printed tickets dry until redemption.
Do you have a system in place for lost children? We are delighted to partner with local charity QCCC – Queensferry Churches Care in the Community who will be manning our 'Lost Children' stand this weekend at our Fireworks Event. QCCC offer vital services to older people in rural areas of North West Edinburgh. The charity supply befriending services and organise memory cafes and supper clubs to those living alone or with limited access to family. Please support this very worthy cause if you are attending on Saturday by purchasing a wristband for your child. We also recommend dressing your young ones in bright clothing and if possible putting a copy of your contact details in their pockets just in case. Our event staff are fully briefed and have agreed systems in place to ensure the safe return of your children in the unlikely event of them getting lost.
Can I buy food at the event?Yes, we have a wide range of food on offer including Hopetoun steak burgers, pizza and hog roast plus coffee vendors and confectionery.
Can I buy alcohol at the event? This is a family event and we do not sell any alcohol on site. Please do not bring your own alcoholas this may be confiscated by our event stewards.
Is the event suitable for prams?Yes, please bear in mind you'll be parking on grass but the main event arena is hard standing.
Can I bring my own fireworks or sparklers? For everyone's safety we do not permit guests to bring any sparklers or fireworks with them.
Are dogs allowed?To minimise stress to both animals and the public we do not allow guests to bring dogs or leave them in the car during the event.
Can I set up a BBQ? Please do not set up a BBQ at this event.  We have a wide range of food available to suit all tastes and diets.
Can I bring camping chairs? Yes, you can bring a camping chair but we ask that you do not bring picnic tables, lighting, BBQ, stoves etc.
Is the site wheelchair accessible? Yes, there is a mixture of hardstanding, small gravel and grass, with ramped access to the loos.
Top Tips
Arrive early! You'll get parked much quicker and with the lovely bonfire to keep you warm, hot food on sale and plenty of pre-show entertainment you'll have lots to keep you busy!
Wear warm comfortable clothing and we'd recommend sturdy comfortable shoes that are suitable for walking on grass.
Whilst we provide lighting between the car parking area and the main event arenas we recommend you bring a torch to maximise your personal safety, especially if you are walking to the event
If you wish to buy any event merchandise (e.g. glow swords, head bands) we have an official stall inside the event. We do not allow any unauthorised vendors into the event but some traders may attempt to sell items on the entry to the event which is not licensed or approved by Hopetoun.
Very young children may benefit from ear protection if you are concerned about the volume of the fireworks and entertainment.
If you have any other enquiries about the event please don't hesitate to contact Hopetoun House during office hours on 0131 331 2451 or email enquiries@hopetoun.co.uk
Categories: Events Hopetoun Estate Hopetoun House