Scottish Gala Evenings
For a sophisticated, all-inclusive package of Scottish hospitality, entertainment and cuisine in elegant Georgian surroundings, our Scottish Gala Evening is unrivaled. Guests enjoy champagne in front of a roaring log fire, explore the grand interiors of the State Apartments within the main House at leisure and then dine under crystal chandeliers in the beautiful Adam Ballroom.
"Beating the Retreat", performed by Pipe Bands in full ceremonial dress, provides a spectacular finale to the evening, coupled with a fireworks display to further enhance the lasting impression that your event will make on your guests.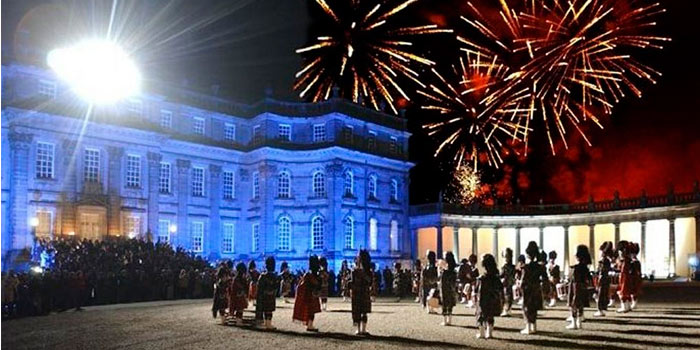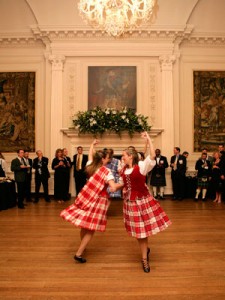 Your event is inclusive of:
Facility Fees for the exclusive use of Hopetoun House
Drinks reception in the State Apartments followed by dinner in the Adam Ballroom
Floodlighting of Hopetoun House façade as a spectacular welcome for your guests
Event Manager, Banqueting Manager, Guides and uniformed service staff
Entertainment, House Piper, Harpist, the Ceremonial Haggis Address, Ceilidh Band and Hopetoun House Dancers.
Food & Beverages, Sparkling Wine and Canapé reception, 4 course menu, a dram of whisky with the haggis, wines and water, tea and coffee
Theming: Floral table centres and arrangements in the House and Ballroom; black floor length tablecloths, black linen chair covers, silver candle sticks, Menzies tartan napkins, base plates and Hopetoun House glassware and cutlery.
Our Event Manager will advise you on how to best tailor your event at Hopetoun to ensure your guests have a truly memorable experience, please enquire for more information on 0131 331 2451 or events@hopetoun.co.uk