Caledonian Success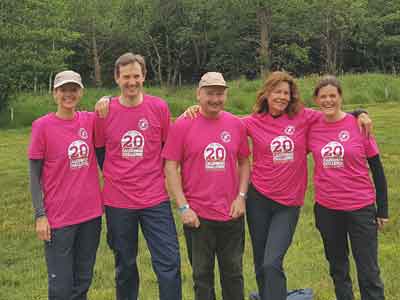 Lord and Lady Hopetoun are celebrating this week after successfully completing The 24 at the Caledonian Challenge on Saturday as part of Allegra's Ambition Team and raising over £10,000 for Allegras Ambition – a charity helping young people to improve their lives through sport and nature.
Starting in Fort William and finishing in Glencoe the team completed a seriously challenging 24 mile hill walk in just 12 hours!
Lord Hopetoun said: "Our team, Skye High, was thrilled to take on the Caledonian Challenge and for me in many ways it was unfinished business.
"I was part of a team that sadly had to pull out of the 2009 event due to illness, so I am very pleased to be able to have completed the Challenge this year.
"We are all hoping to raise the profile of Allegra's Ambition and to help support this wonderful charity financially."
He added: "We have been lucky enough to receive some incredibly generous donations taking our total to over £10K, which helped us to push through the midges and our Scots summer weather.
"This new initiative to open the Challenge up to other charities is a terrific one and I hope it has been a huge success for charities like ours."
Categories: Hopetoun Estate Hopetoun House