Farm Grill Launches New Lunch Concept
During the month of August the Hopetoun Farm Grill, open every weekend at Hopetoun Farm Shop, is launching a new lunch concept inviting diners to bring a partner along to enjoy a new sharing platter.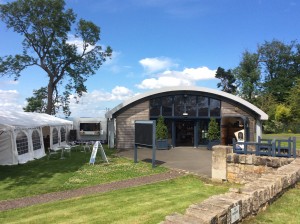 Designed by the Estate's butchers these platters are prepared in-store by the shop's butchers then grilled fresh to the customers liking at the grill located adjacent to the shop. Each meat platter is served on a wooden board and comes with homemade potato salad, dips and grilled bread to share.
Depending on the 'summer' weather diners can enjoy eating alfresco at the outdoor seating area or outside the grill's large marquee. The themes for August are as follows:
1st/2nd August: Hopetoun Aberdeen Angus beef (mini steaks, kebabs and sausages)
8th/9th August: Pork
15th/16th August: Gluten free selection of Hopetoun butchery items
22nd/23rd August: Hopetoun Lamb
Platters range in price from £10-12 per board for 2 people.
Categories: Hopetoun Farm Shop