Fireworks Tickets Go On Sale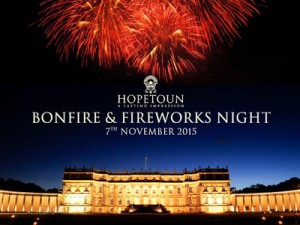 The first tickets have just been sold for our seventh annual Hopetoun Bonfire and Fireworks Night which takes place on Saturday 7th of November 2015.
This is the first time tickets have gone on sale during the summer months offering more visitors the opportunity to benefit from the 'early bird' discount.  By purchasing tickets before 1st September there are savings of up to £3 per ticket to be made (including booking fee).
The event will take place against the backdrop of Hopetoun House, Scotland's Finest Stately Home and will offer an array of pre-show entertainment including live performances, entertainment and fairground rides for children and a wonderful selection of food stalls ranging from Hopetoun's own farm shop burgers to delicious wood fired pizzas and hog roasts.
 
The evening will climax with a fabulously entertaining finale of fireworks by the award winning company 21CC Fireworks, choreographed and fired brilliantly to music.
To purchase advance tickets online visit Hub Tickets.
Categories: Events Hopetoun House