Ratho Primary Apprentice Butchers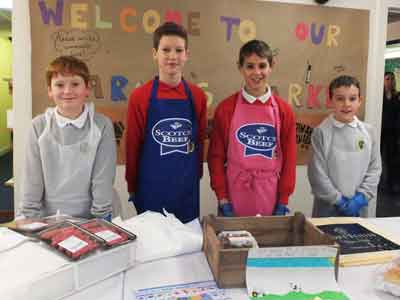 Parents and friends of pupils at Ratho Primary School near Edinburgh were served fresh produce from our estate by some brilliant young butchers.
The Ratho PS Farmer's Market is an annual event run by the teachers and pupils with support from the Royal Highland Education Trust (RHET)
The market was so busy these guys sold out of Hopetoun steak pies, sausages, burgers and free range eggs well before the event closed. We think they would make great apprentices for the shop!
Hopetoun have worked with RHET Lothian to support this event for the past two years but we've also worked with them to deliver 2 large scale Food & Farming events for West Lothian schools. More than 200 primary aged children have attended demonstration days at the Hopetoun Farm.
Categories: Hopetoun Farm Shop