Visit House and Grounds
Hopetoun House & Grounds are now open to visitors. We will open 5 days per week until Sunday 25th September 2022.
Opening times: 11am to 5pm (last entrance 4pm)
Open Days: Thurs, Fri, Sat, Sun, Mon
Closed Days: Tues and Wed
Visit Hopetoun and discover a place of beauty, tranquillity and architectural magnificence dating from the 17th century. It has been home to the Hope Family since the late 1600's and the present Lord Hopetoun and his family still live in Hopetoun House. Hopetoun House, a remarkable and beautiful stately home, is filled with stunning collections and sits in majestic grounds with nature trails and scenic walks.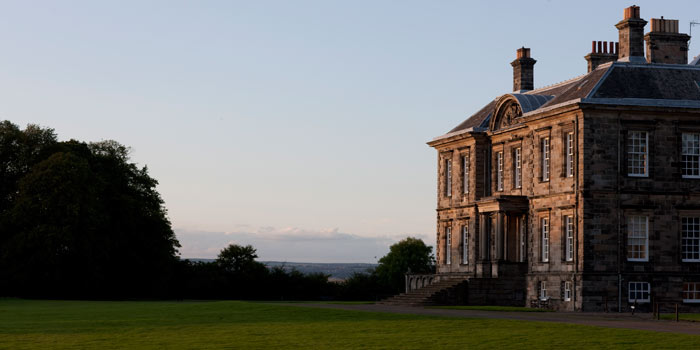 Hopetoun House is often referred to as Scotland's Finest Stately Home and it is also a five-star Visitor Attraction, testament to the friendly team and its aim of providing an exceptional customer experience.
As you approach Hopetoun House, the impressive panoramic view of the main facade is breathtakingly revealed. Designed by William Bruce and then altered and extended by William Adam, Hopetoun House is one of the finest examples of 18th century architecture in Britain.
The magnificent interiors which have remained virtually unchanged for three centuries reflect the elegance of the Georgian era and are decorated with the best period furniture, paintings, tapestries and clocks, with beautifully crafted finishes of carving, gilding and plaster work.
On occasion, we do have additional guided tours throughout the house but please ask a member of staff for more information on these.
Admission to the House and surrounding Grounds is by ticket only. Please see below for details on ticket pricing.
---
Pricing
| | | |
| --- | --- | --- |
|   | House & Grounds | Grounds Only |
| Adult | £12.50 | £6.00 |
| Children | £6.50 | £4.00 |
| Pensioner/Student | £11.00 | £5.50 |
| Groups (15+) | £11.00 | £5.50 |
| Family (2 + 2) | £34.00 | £18.00 |
|  Disabled | £6.50 | £4.00 |
| Young Scot Card Holder | £1.00 | £1.00 |
Season Tickets
| | |
| --- | --- |
| Individual | £30    |
| Couple | £40 |
| Family (2+2)  | £50 |
Season Ticket must be booked online. For further information on Season Tickets please click here
---
Lets Keep Safe
We continue to monitor the situation regarding Covid-19 and we will implement any changes advised by the Scottish Government. Meanwhile, the safety and comfort of our visitors and staff is very important and therefore we are taking the following measures:
We encourage online ticket bookings so that we can gauge the number of guests on site each day
We encourage guests to pay for any additional purchases on site by card instead of cash
We have hand sanitizer and hand washing facilities available on site for all guests
We encourage our staff and guests to continue to wear masks in any indoor areas of Hopetoun House
Although physical distancing is no longer a requirement, we understand that some guests will be more cautious than others, therefore we encourage all guests and staff to keep a safe and polite distance from each other
When you visit, you are kindly asked to observe information on signs, follow any one-way routes or queuing systems that may be in place and follow the advice of our staff.
If you are showing any of the symptoms of coronavirus, or if you have been in contact with anyone that has the virus in the last 7 days, you must not visit.
Please check the Government guidance before visiting on:
www.gov.scot/publications/coronavirus-covid-19-guidance-on-travel-and-transport/#exceptions
Through the admissions and cleaning procedures we are putting in place, and with your co-operation, we should minimise the risk of Covid 19 transmission while you visit Hopetoun. However, as with anywhere that you might visit or shop in, we obviously cannot guarantee that anyone visiting or working here has not unknowingly been exposed to or is carrying the virus. By purchasing your tickets, you acknowledge that the Hopetoun House Preservation Trust cannot be held responsible should transmission of the virus to you be traced to a visit to Hopetoun.
Please contact the Hopetoun House on 0131 331 2451 for any enquiries
Frequently Asked Questions
For a full list of our FAQs please check here
Further information
Further information on tickets can be obtained from the Ticket Kiosk during our open season or by calling 0131 331 2451.
Please click here to read our Terms & Conditions for online ticket sales including our refund policy.
If you are interested in become a volunteer guide please email enquiries@hopetoun.co.uk.
---
Photography
During your visit, within opening hours and providing that you have purchased a ticket for the House & Grounds, you are welcome to take photographs outside the House and inside the House (without flash please) for non commercial private use. However, the use of tri-pods and selfie sticks are not allowed in the House.
Wedding photography is not at any time permitted onsite unless your wedding has been hosted by us. We often host Weddings during visitor season and guarantee our bridal parties complete event exclusivity.
Drone filming is not permitted anywhere on site.