Visit House and Grounds
Hopetoun House & Grounds is now closed and will re-open on the 29th of March 2024. To keep up to date with our latest news, you can sign up for our newsletter here.
Visit Hopetoun and discover a place of beauty, tranquillity and architectural magnificence dating from the 17th century. It has been home to the Hope Family since the late 1600's and the present Lord Hopetoun and his family still live in Hopetoun House. Hopetoun House, a remarkable and beautiful stately home, is filled with stunning collections and sits in majestic grounds with nature trails and scenic walks.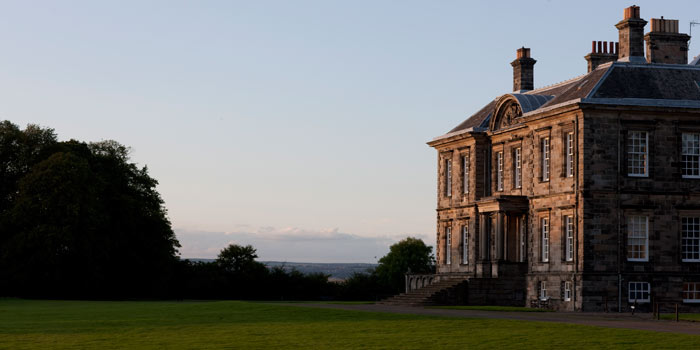 Hopetoun House is often referred to as Scotland's Finest Stately Home and it is also a five-star Visitor Attraction, testament to the friendly team and its aim of providing an exceptional customer experience.
As you approach Hopetoun House, the impressive panoramic view of the main facade is breathtakingly revealed. Designed by William Bruce and then altered and extended by William Adam, Hopetoun House is one of the finest examples of 18th century architecture in Britain.
The magnificent interiors which have remained virtually unchanged for three centuries reflect the elegance of the Georgian era and are decorated with the best period furniture, paintings, tapestries and clocks, with beautifully crafted finishes of carving, gilding and plaster work.
On occasion, we do have additional guided tours throughout the house but please ask a member of staff for more information on these.
Admission to the House and surrounding Grounds is by ticket only.  Tickets can be purchased online or at the gate
---
---
Frequently Asked Questions
For a full list of our FAQs please check here
Further information
Further information on tickets can be obtained from the Ticket Kiosk during our open season or by calling 0131 331 2451.
Please click here to read our Terms & Conditions for online ticket sales including our refund policy.
If you are interested in become a volunteer guide please email enquiries@hopetoun.co.uk.
---
Photography
During your visit, within opening hours and providing that you have purchased a ticket for the House & Grounds, you are welcome to take photographs outside the House and inside the House (without flash please) for non commercial private use. However, the use of tri-pods and selfie sticks are not allowed in the House.
Wedding photography is not at any time permitted onsite unless your wedding has been hosted by us. We often host Weddings during visitor season and guarantee our bridal parties complete event exclusivity.
Drone filming is not permitted anywhere on site.
Accessibility
See our Accessibility Statement here
Mobility
The majority of the house is accessible and the mobility routes in the grounds can be found on the map here.