Deer Parks at Hopetoun
At Hopetoun we are extremely fortunate to share our environment with three species of deer. The wild deer species is restricted to Roe Deer who are free to roam across the estate and move to and from neighbouring land. We also maintain Red Deer and Fallow Deer as parkland herds in the pasture surrounding Hopetoun House.
The history of the Hopetoun deer parks seems fairly straight forward. The land was purchased by the Hope family in the late seventeenth century and the first house built between 1699 and about 1702. It was enormously extended by William Adam in 1721-25, and this renovation and extension included the landscaping of the park in typical eighteenth century fashion, including the construction and laying out of ha ha's and the deer parks. It is not clear whether the earlier castle on the site included an emparkment, but there is no doubt that Adam's design included a fallow deer park, since that was de rigueur for such landscaping. It is unlikely that red deer were included in Adam's designs, although of course it is possible that there was a remnant of red deer on the property from a former hunting park. Whitehead records that fallow deer from Hopetoun were taken in 1780 to Raehills, Dumfriesshire and that in 1895 an escaped fallow from Hopetoun was shot at Dunipace, some 19 miles away.
New fallow blood appears to have been brought from Welbeck in 1928 and 1930, with no other records of intentional movements in or out of the park. As far as numbers are concerned, the red herd was maintained at very low levels through the mid and late 20th century: in 1963 there were 5 stags and 10 hinds and in 1988 only 35 red deer, although I have no records of their sexes at that time. In 1963 the red park was a mere 26 acres and the fallow park 142 acres. In keeping with the Regency nature of the property, the fallow herd was more prominent and more numerous, numbering about 60 animals in both 1963 and 1988.
Today, the fallow herd currently numbers approximately 100 mature females who roam the 150 acre walled parkland along with approximately a dozen mature bucks. Walkers and cyclist who frequent the John Muir Way which passes through the park will be familiar with the fallow herd.
The red deer herd numbers 25 females with 1 master stag. These will be familiar to visitors to the grounds of Hopetoun House and can be viewed by taking a stroll along the Sea Walk.
Both herds, whilst contained, are free to roam within their respective enclosures and require virtually no intervention except on welfare grounds. They are fed carrots, forage and mineral blocks as a winter feed supplement and their numbers are carefully maintained to ensure healthy and sustainable herds.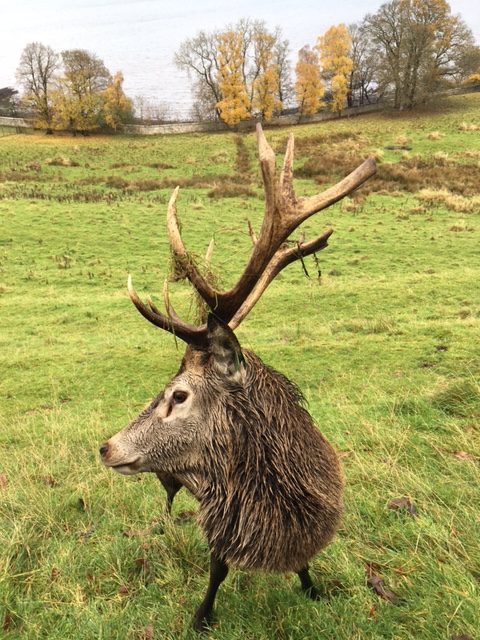 Categories: Hopetoun House